Taiwan Institute for Governance and Communication Research (TIGCR) is honored to have Professor Chi Huang, Director of TIGCR, and Associate Professor Hsiang-Kai Dong, Chair of Government Bureaucrats Survey Committee as speakers of the workshop. They used TIGCR-PPS 2018 and TIGCR-TGBS 2018, which are released by TIGCR last year, to showcase TIGCR data archives. With thorough demonstration of the survey data, they illustrated how everyone can explore crucial sociopolitical issues, such as the stances of Taiwanese citizens and civil servants.
The workshop began with Professor Huang introducing TIGCR's history and data archives. Taiwan Institute for Governance and Communication Research (TIGCR) is a research center established and funded by Ministry of Education in March, 2018. Focusing on policy making, policy communication and polarization, TIGCR hopes to apply the research results to the prevention and alleviation of political polarization. The iconic survey data include TIGCR-PPS 2018, TIGCR-TGBS 2018 and TIGCR-W-PPS 2020. The bilingual data have been released on TIGCR's website. (Online Application: https://tigcr.nccu.edu.tw/tw/surveys/center. After registration, you can then download the data) Also, Professor Huang used both TIGCR's open data and Nesstar Online Analysis to demonstrate TIGCR's pioneering data archives and informative website.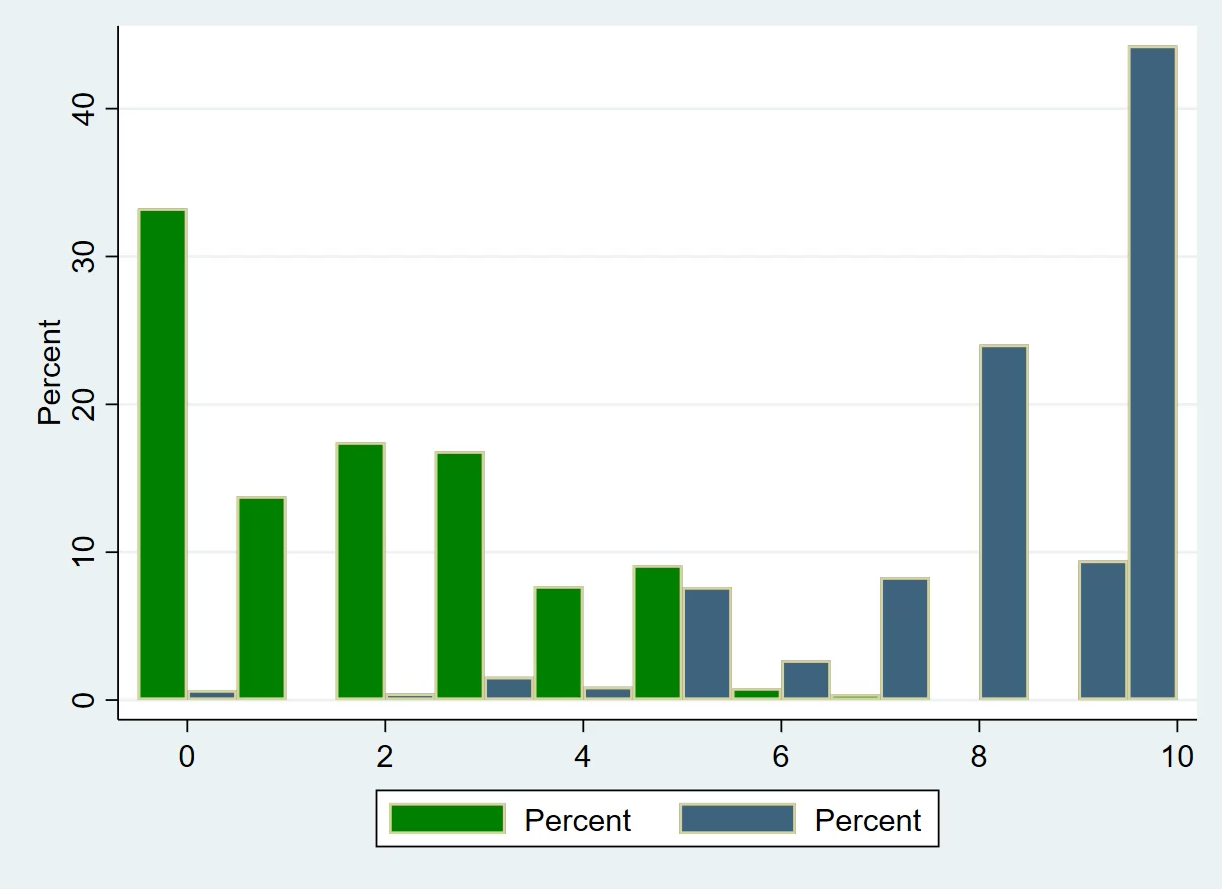 The chart shows the perceived polarization on Unification-Independence issue
Professor Huang used TIGCR-PPS 2018 to analyze people's cognition of political polarization. The result reveals that about 60% remain neutral on Unification-Independence issue. While KMT supporters prefer unification, most of them still hold neutral opinions on this issue. However, when KMT supporters are asked of DPP supporters' stances, they all think the other side upholds independence. Similarly, DPP supporters will aggregate biased opinions when viewing KMT supporters. This phenomenon is the so called perceived polarization.
Next, Associate Professor Hsiang-Kai Dong introduced TIGCR-TGBS 2018. The main goal of TIGCR-TGBS 2018 is to build long-term panel survey of civil servants' stances on work satisfaction and various issues. Associate Professor Dong took the recent pension reform issue as an example. Contrasting popular assumption, more than half of the civil servants consider pension reform to be reasonable. In addition, nearly 90% of them believe the public won't sympathize military personnel, civil servants and teachers after the enforcement of pension reform. Even though 56% of civil servants are for pension reform, 70% of them think the government didn't collect complete information before undergoing the reform, and they aren't satisfied with the outcomes of the new policy. From the data, we can see that more than half of the civil servants believe the reform will not affect their promotion, and about 64% of them are highly satisfied with their job.
The workshop fully demonstrates how promptly and thoroughly TIGCR releases its data archives. Professor Huang pointed out the contradiction between Taiwanese people's self-recognition and others' opinions. Associate Professor Dong used the data to analyze various perspectives on pension reform. In addition to TIGCR's data archives, you can click the link below to understand how to analyze data using both Nesstar and Stata and to learn more about this workshop: https://www.youtube.com/watch?v=wHjqPmL_YPE.